Moroccanoil Treatment is a universal treatment for all hair types. It nourishes and facilitates styling. It is regarded as the best argan oil and is ranked as the best repairing and conditioning product – it excellently rebuilds hair structure.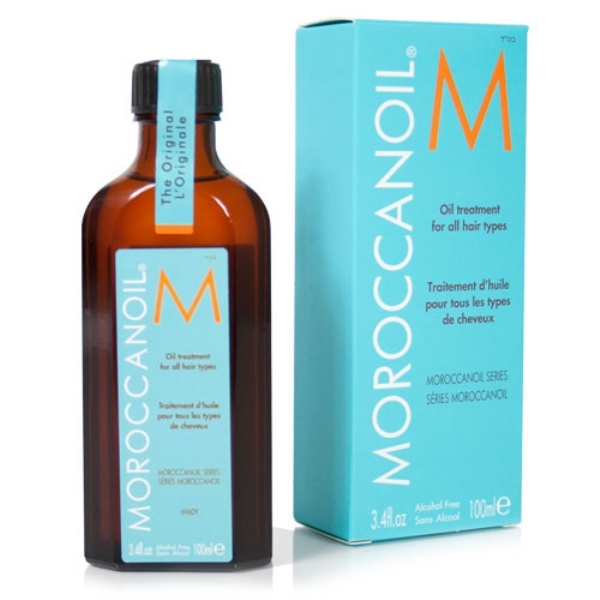 Oils and other ingredients
Moroccan oil is the main component of Moroccanoil Treatment Original. Sadly, apart from argan oil (rich in polyunsaturated fatty acids – linoleic and oleic – perfect for high porosity hair), there are also two silicones. Luckily, the silicones that are easy to wash down with a regular shampoo. Moroccanoil Treatment Hair Oil has been also enriched with linseed extract which supports nourishment of hair.
There are only two natural substances in Moroccanoil Treatment Original and nearly ten other additives, including benzyl benzoate – a fragrance component which is a potential allergen.
We would expect much richer and more natural formula from such a prestigious and luxurious hair oil.
Repairing damaged hair
Argan oil, called the liquid gold of Morocco, is the source of all properties of Moroccanoil Treatment Original. It is an oil for high porosity hair. It has large particles which fit in perfectly between the raised cuticles and seal hair structure. The oil regenerates, strengthens and nourishes your hair from the inside as well as slows down ageing processes. If you use Moroccanoil Treatment Original, you will keep your strands in good shape.
Moroccanoil Treatment Original Hair Oil makes your hair soft, smooth, resilient and shiny. Detangling and styling is easier, and blow-drying takes up less time. The oil may stimulate hair growth. However, it is more likely that potential allergens will irritate the scalp and stop the beneficial action of argan oil.
Application tips
Moroccanoil Original Treatment is unsuitable for oiling the scalp. The application is easier thanks to a pump which is attached to a glass bottle with a straight cork. However, changing the caps may be troublesome. Moroccanoil Oil should be applied to clean and towel-dried hair or to dry strands for smoothness. The oil can be mixed with other products e.g. conditioners or shampoos to enrich them with the properties of argan oil.
Extra information
The price of Moroccanoil Treatment is rather high. You must pay too much even if we consider the costly natural argan oil. The dark heavy glass bottle of a characteristic shape doesn't look impressive or elegant – it's simply nice. The fragrance is the most captivating in the cosmetic but it makes no sense to pay lots of money for the nice scent only.
What are the disadvantages of the product?
very high price in comparison with other oils
only one oil and one plant extract
ingredients which are potential allergens
the pump is separated from the bottle
formula that doesn't work for scalp oiling