Garnier Fructis Oil Spray is the combination of three nourishing hair oils which bring freshness and health in hair. The oil contains apricot oil, mango oil and almond oil. They are perfect for damaged, dry and brittle hair.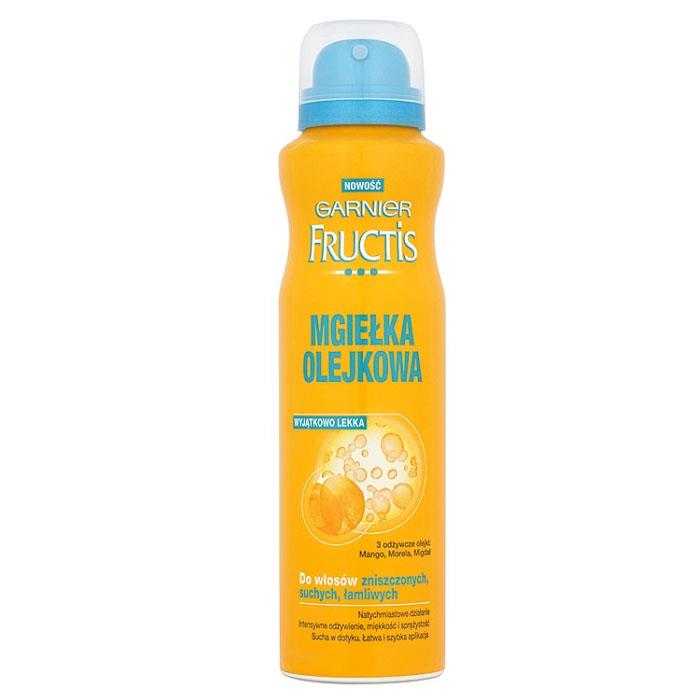 Oils and other ingredients
The name – Oil Repair 3 – suggests that the oil spray contains three oils, which is perfectly true. The first one – mango oil (to be more precise – butter) – which regenerates, softens and protects from UV radiation. The second one – sweet almond oil – common in hair products. The last one – apricot seed oil – is the source of vitamin B17 which excellently rebuilds.
Unfortunately, artificial substances make up large part of Garnier Fructis Oil Repair 3. Theoretically, they are to improve the action of the cosmetic. It would be much more beneficial to the brand if it focused on the oils instead of adding two harmful alcohols in large quantities. Other silicones, softening substances and preservatives are also unnecessary but drying and irritative alcohols may cause the biggest damage.
Repairing damaged hair
Garnier Fructis Oil Spray has been created to provide damaged, dry and brittle hair with intensive nourishment. It also works for hair that is noticeably weak from hair colouring or perm. It is supposed to deliver instant softness and bounce after the first application. It is a very light product which passes the lightness on your hair. Its appearance is totally different – your strands are shiny and easy to detangle.
Garnier Oil Repair 3 Spray is a daily-use product. It is meant to regenerate damaged hair and restore its shine. Microscopic particles of the three oils penetrate inside the hair and condition it from the inside. Shiny, soft, bouncy and, most of all, healthy hair is the effect of regular use of Garnier Oil Spray, provided the formula – full of alcohols – won't irritate or dry your hair.
Application tips
Easy application is the best thing about the product. Garnier made sure you don't need to spend much time on hair oiling. In fact, Oil Spray isn't suitable for hair oiling but it makes hair care and protection very easy. Thanks to the spray formula, the application is also quick. The oil can be used in two ways: before detangling for nourishment and easier styling or during the day onto dry hair to add shine.
This light spray is very quickly absorbed, leaving nothing but the fragrance.
Extra information
Garnier Fructis Oil Repair 3 Spray is one of the worst conditioning products. It is cheap but the quality is poor. Many damaging alcohols and poor design (orange and blue tin that looks like a deodorant) – even little money isn't worth it. The application and very nice aroma are the only things that could convince you to buy it. Oil Spray offers a very fresh, fruity and spring aroma which lingers on hair very long.
What are the disadvantages of the product?
two very harmful alcohols
few natural oils
weak repairing action
may cause dry and sticky hair
very inelegant and uncomfortable packaging