Alterna Caviar Treatment Omega+ Nourishing Oil is a complex way of rejuvenating your hair. Thanks to the combination of caviar, vitamins and plant extracts, it restores health in damaged hair in no time.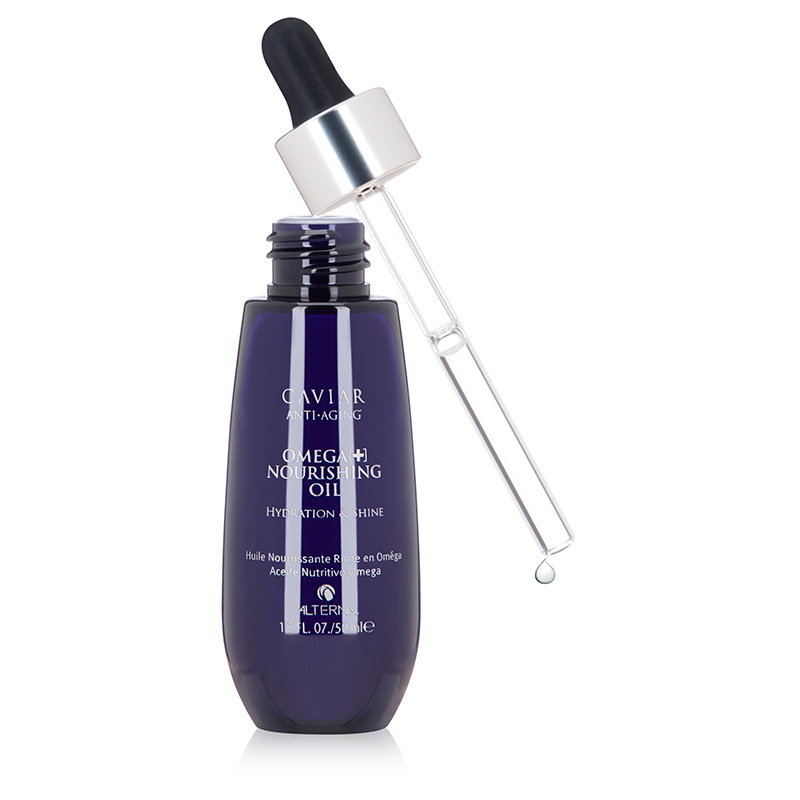 Oils and other ingredients
Alterna Caviar Omega+ Nourishing Oil is based on innovative technologies. First of all, the oil provides enzymes which allow for better absorption of nutritional ingredients. Second of all, it offers Age-Control Complex – the best rejuvenating substances. This technology combines: caviar extract of very high concentration of omega-3 acids, antioxidant vitamin C and sea algae extract which prevents visible signs of hair ageing.
Alterna Caviar Treatment Oil also contains Abyssinian oil which offers 50% of erucic acid (omega-9), and sunflower oil. The product is formulated without alcohols or harmful substances. It includes a few silicones but they are volatile and can be easily removed with a delicate shampoo. The formula has been enriched with yeast extracts abounding in essential minerals: magnesium, zinc, copper, silicon and iron.
Repairing damaged hair
The action of Alterna Caviar Treatment Oil is based mainly on moisturising and nourishing. Damaged hair receives support thanks to these two key properties. The combination of fatty acids, phospholipids, amino acids and vitamins smooths hair cuticles, which allows for keeping proper moisture and delivers silk smoothness. Hydrating, replenishing nutrients, restoration of vitality, bringing resilience and strength – it is possible thanks to Alterna Caviar Anti-Aging Omega+. Hair ageing processes are slowed down.
Hair gets back its young look. It is also protected from harmful UV radiation.
Application tips
Alterna Caviar Anti-Aging hair oil is small because you need a small amount to get satisfactory effects. There is a comfortable dropper. The way of application is similar to applying other hair oils. Alterna Caviar Anti-Aging is a leave-in oil, which is undoubtedly an asset. You apply a small amount to dry or slightly wetted hair. It is advisable to do it right before styling. Alterna hair oil is absorbed well and improves condition of hair from the inside.
Extra information
Standard capacity of Alterna Caviar Omega+ Nourishing Oil is only 50 ml. The price seems quite low but if we consider the small capacity – it is very high. The violet glass bottle is small and fits perfectly in the hand. Alterna Caviar Omega+ Nourishing Oil offers an extremely fresh scent which resembles the smell of rain, which makes every application pleasurable.
What are the disadvantages of the product?
very small capacity and very high price
formula designed for hair only, not for the scalp
a few light silicones which may prove comedogenic
not many natural oils