Garnier Fructis Serum Goodbye Damage hair oil is in fact a silicone serum. It is called a 'bandage' on split ends. The brand promises 77% fewer split ends but binding split ends back together is open to doubt.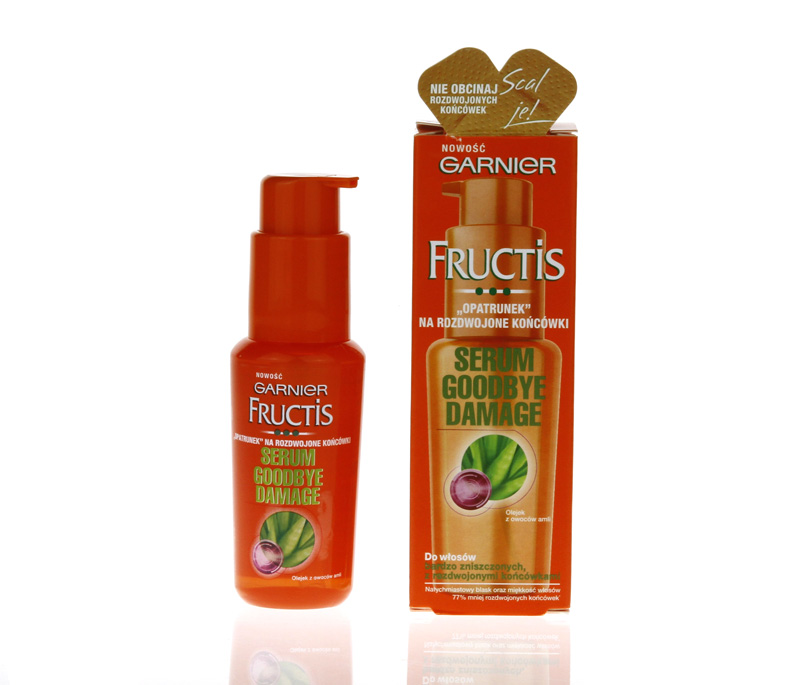 Oils and other ingredients
According to the label, Garnier Fructis Serum Goodbye Damage contains amla oil. In reality, it is amla fruit extract in scant quantities. There is no extra oil that amla fruits could be macerated in. Therefore, it is difficult to call Serum Goodbye Damage a hair oil.
The plant extract makes up a small part of the whole formula. There are more silicones which may overburden; they can be removed with a shampoo but they won't work for all hair types. The serum also contains drying alcohols which may do more harm than good in case of damaged hair.
Repairing damaged hair
Serum Goodbye Damage has been designed for daily care of very damaged hair with split ends. Garnier Fructis promises that the oil is going to bind split ends back together, which is physically impossible. The only remedy for split end is cutting it down. There is no serum that is able to rebuild it. It can only prevent further damage and protect healthy hair ends.
Instant shine and softness is another promise. In this case, Serum Goodbye Damage manages to fulfil it. Your hair gets shiny, smooth from the roots to the ends and easy to detangle.
The cosmetic is perfect for conditioning and finishing a hairstyle but it definitely won't reverse one year of damage in one week (as it promises).
Application tips
The serum is very handy and has a comfortable pump. It can be applied to the entire length of hair, especially on hair ends. Theoretically, the brand doesn't say that it cannot be applied to skin but the ingredients show that it isn't a typical oil. Therefore, Serum Goodbye Damage is surely unsuitable for hair oiling. You can use the product in three ways: apply to clean and towel-dried hair; to hair ends before blow-drying; to dry strands during the day. The plus for leaving-in formula.
Extra information
Garnier Fructis Serum Goodbye Damage offers low price and low quality: unimpressive design, poor ingredients, unfulfilled promises and average action. In spite of a comfortable pump and runny formula, the oil isn't efficient. It has one big plus: beautiful, refreshing, flowery and fruity fragrance which lingers on hair long.
What are the disadvantages of the product?
very poor conditioning action
doesn't bind back or repair damaged hair ends
contains harmful alcohols and silicones
packaging isn't impressive
can make your hair dry and weaken it
cannot be applied to scalp