LuxeOil is a hair reconstructing elixir created by Wella Professionals. It is a special oil and silicone formula which provides protection and strength inside the hair. It triggers the production of keratin which is a natural hair building block of hair.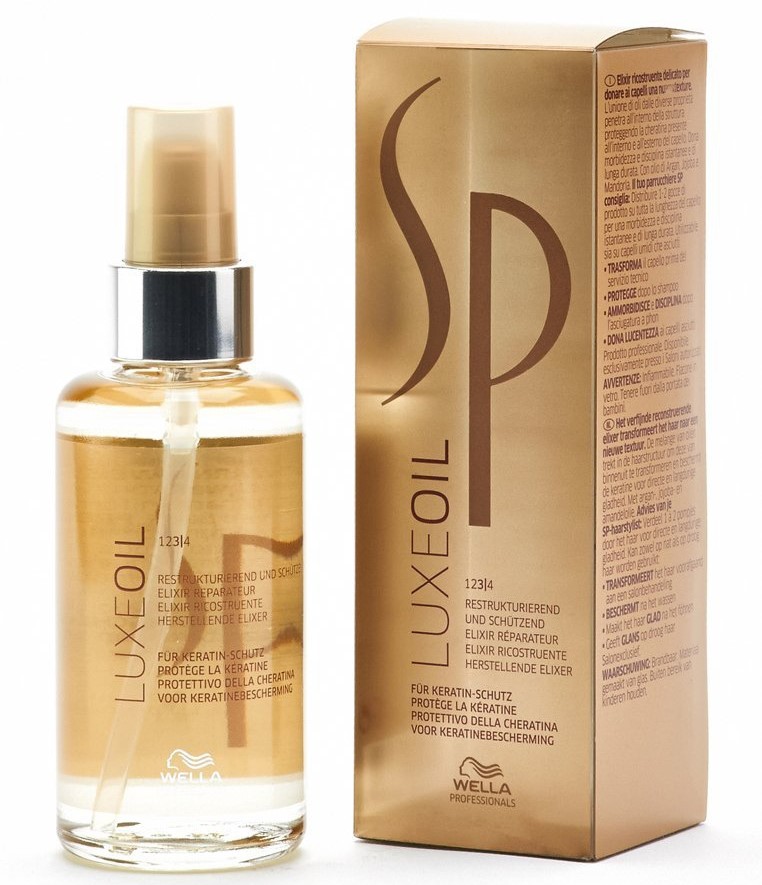 Oils and other ingredients
The formula of Wella Professionals contains four valuable oils but their amount is small in comparison with other substances. The oils in LuxeOil are: argan oil – ideal for damaged hair, jojoba oil – perfect absorption, sweet almond oil – excellent moisturising, camellia oil – extracted from ever-green tea trees. These oils make a perfect quartet for high porosity hair if their action isn't disturbed by other substances.
Unfortunately, LuxeOil Reconstructive Elixir includes much more artificial substances than oils. For instance, silicones which are volatile, easily washed down and harmless for hair. Ethanol is the most dangerous. It is a very harmful alcohol of strong irritative properties. It may be the cause of serious irritation and dryness.
Repairing damaged hair
The two basic tasks of Wella LuxeOil Reconstructive Elixir are: nourishing and smoothing your hair. The oil has been designed to protect natural delicate protein which builds our hair, namely keratin. The main purpose of LuxeOil is complex protection of hair structure and strengthening the hair from the inside.
Thanks to LuxeOil Reconstructive Elixir, your hair is even ten times more silky smooth. Your strands regain health and resilience. The oil gives them silky smoothness right after the first application. As a consequence, they are far easier to detangle and style as they aren't stiff or rough.
Wella LuxeOil beautifies and improves hair condition. If you use too much, it may bring adverse effects.
Application tips
The biggest problem of Wella Professionals LuxeOil Reconstructive Elixir is that it is unsuitable for hair oiling. It is not recommended to apply it near the scalp or leave overnight. LuxeOil should be applied from the mid-lengths, focus on hair ends. Preferably, your strands should be damp because the oil is supposed to facilitate styling e.g. blow-drying. There is a comfortable pump for easier dosing. Thanks to the light and runny formula, the oil is absorbed immediately.
Extra information
The price is the biggest asset of the product. It costs much less than other oil-based products for damaged hair. The glass bottle hides a colour-less cosmetic of a normal density. Sadly, the bottle isn't handy. It may easily slip out of your greasy hands covered with the oil. The sweet fragrance isn't intense and doesn't stay on hair but it won't appeal to fans of delicate aromas.
What are the disadvantages of the product?
ethanol, very harmful alcohol among ingredients
more artificial substances than oils
slick, uncomfortable glass bottle
sweet and suffocating fragrance
if you apply too much, it may cause dryness and frizz